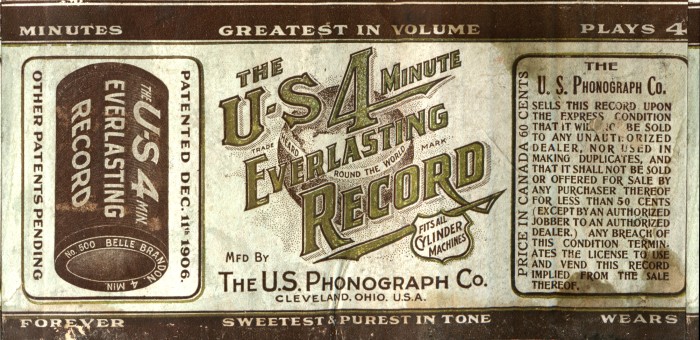 The Company was formed in 1908, by a breakaway of certain executives of the Edison Company, including Albert Benzler and J.W.Myers, who were, presumably, dissatisfied with that Company's inability to make indestructible cylinders.

With a capital of $ 300,000, they went into production at Cleveland, Ohio, and using the patents of Thomas B.Lambert, brought out two-minute cylinders in 1908 and four-minute in 1909.

Simultaneously, they granted an agency to Montgomery Ward, the mail-order firm, who marketed these cylinders as "Lakeside", while retaining the parent numbering. In 1910, the Company was associated with the Bishop, Babcock and Becker Company, also of Cleveland, but in what capacity is not known.

The Company ceased production in 1913.

Mr. Jim Walsh, writing in 11th, October, 1952, states that cylinder number 223, "Piter Piper March", a xylophone solo by Albert Benzler, was played 40,444 times without a sign of wear, on phonograph in an arcade in Cleveland.

By H.H. Annand

Introduction from "The Complete Catalogue of the Unites States Everlasting Indestructible Cylinders. 1908 - 1913" by H.H. Annand, the President of the City of London Phonograph and Gramophone Society, 1966.