random item
---

Opera in English, Italian Vocal ... (horseman)
Comments: 0
Rating


news
---
72 news on 15 page(s). Displayed: news 46 to 50.
| | |
| --- | --- |
| Dear friends, we are happy to announce the following improvements of the website | 24.06.2011 19:01 |
---
1. Each label will be assigned with a status that defines its visibility on the website. Status assignment can be interpreted as putting label into a certain "Fund". There are 5 permanent and one interim status. Following are their definitions:

"Fund is not assigned" – this is the interim "entry" status. All newly uploaded labels will get it right after uploading on the website. Labels with this status have bright green frame. They will be visible only to their owners and to the Editors. This status will be in place until Editor of the corresponding chapter will change it to permanent status - "Fund".

"Personal Fund" – labels from this Fund are only visible to their owners. Labels belonging to Personal Fund have light-green frame.

"Bronze Fund" – labels from this Fund are visible only in «Mini-Discographies». The frame color will depend on belonging to one 3 metacategories: Pre-revolutionary records (yellow), Foreign records (blue), Soviet records (red).

"Silver Fund" – labels from this Fund have visibility of "Bronze Fund" plus they are also visible in «Labels variants catalogs». If use Gramplasttrest Company as an example, the «Labels variants catalogs» are the plants: Aprelevka, Noginsk, and etc. For pre-revolutionary records «Labels variants catalogs» are: "HMV Concert Record", "Amour Gramophone", "Beka-Meister-Plastinka (red)", and etc.

"Gold Fund" – labels from this Fund have visibility of "Silver Fund" plus they are also visible in «Companies main catalogs». If use Gramplasttrest as an example, the «Company main catalog» is the Gramplasttrest folder itself. For pre-revolutionary records «Companies main catalogs» are "Gramophone Co.", "Beka", and etc.

"Platinum Fund" – is the highest status. Labels from this Fund have visibility of "Gold Fund" plus they are also visible in "Featured items". They also may appear in the "today's item" on the home page.

All statuses above "Personal Fund" are indicated by a little icon located just under the "Label Description" title on the detail screen.

2. With introduction of funds we changed the layout of user's profiles. In addition to total items uploaded on the website by the user there are totals for each fund. The name of the fund is actually a link. By clicking on it the viewer can see all items from this fund. Now it's time to come back to the topic of visibility items from the "Personal Fund". It also a link in the user's profile, and it is the only way to see them by other participants. Reasonable assuming that not all users would wish to show their personal items to all participants we added a new option in user's profile that called "Show Personal Fund to all users". By default it set to "Yes", but if user change it to "No" during editing of own profile, the link "Personal Fund" will not be displayed when other users look into his profile.

3. All collectors will most likely like the next novelty we are unveiling! The website can be used as personal directory for own collection. It can be achieved by the new option of the website's global filter that is located in the right low corner of the home page. The user can set it to "Înly own records" and click on button "Go" next to it. Now the website will show only your own items! The filter can be turned off by selecting "Include everything" option in the filter.

4. We are very happy to announce opening of new chapter "Mineral" and "Plastmass" Artels. The Editor of this chapter will be Yuri Boyarintsev. Because of team expansion as well as because of the fact that after introduction of funds the Editors will play much more important roles, we decided to rename and reorganize roles of the Editorial Board as following:

Alexey Petukhov – The Chief Editor of the Soviet chapters
Yuri Boyarintsev – Editor of "Mineral" and "Plastmass" Artels chapter
Alexey Kochanov – Technical Editor

Yuri Bernikov will continue to be Administrator as well as Editor of pre-revolutionary and foreign chapters.

In a case of issues, please contact the Editor of the corresponding chapter first. If you have any questions, comments or proposals, please post them on our forum.
| | |
| --- | --- |
| Moving to the new hosting is completed | 29.04.2011 16:57 |
---
Dear friends, we finished moving to the new hosting. We hope, that the website will work faster and better! However, we had to upgrade from PHP4 to PHP5 and it may cause some software incompatibility problems that we will try address immediately as they encountered.
| | |
| --- | --- |
| The Centennial Jubilee of the Copyright Act in Russia. | 19.03.2011 05:59 |
---
March 20, 2011 marks the Centennial Jubilee of the Copyright Act in Russia that for the first time included phonograph industry interests. Follow the link to read Alexander Tikhonov's article The Centennial Law - The Centennial problem (currently available only in Russian language) dedicated to this event. The abridged version of the article was published in the March 3 (41) issue of Russian Billboard magazine on page 19.
| | |
| --- | --- |
| A little bit of statistics | 31.01.2011 05:18 |
---

It's most certainly, that frequent portal visitors are curios how the website's popularity did grow over a several last years. Following is the extraction form the website's statistics for the last 3 years: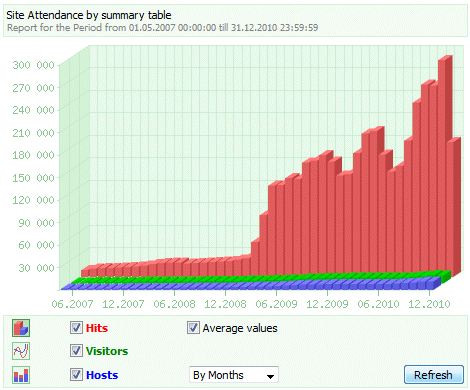 And this is statistic for the most recent 30 days by countries:



| | |
| --- | --- |
| Pre-Revolutionary periodicals | 29.11.2010 23:24 |
---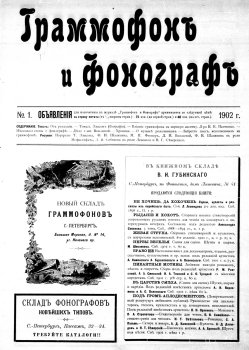 Dear Friends, we are happy to share the extraordinary good news – the Russian-Records.com just received a parcel with huge archive of microfilms containing nearly all gramophone related pre-Revolutionary Russian periodicals! This priceless gift was made by a record collector from Perm German Alexejevich Stschetnikov, whom we make our kowtow and say our hearty thanks!

The most important task now is to make the best possible scans of these materials and present them on the website. Fortunately, we have at our disposal one of the best film scanners Nikon CoolScan V ED that we are going to use for the job. After scanning we will post-process all images and upload them on the website in form of PDF files – one file per magazine. During post-processing we'll give preference to image quality vs. file size and we'll try to find the minimal file size when the image degradation is almost invisible for eyes.