random item
---

a) Grow, Grow, My Arrowwood; b) ... (max)
Comments: 0
Rating


news
---
80 news on 16 page(s). Displayed: news 71 to 75.
| | |
| --- | --- |
| The Collector's Guide to Gramophone Company Record Labels 1898-1925. | 29.06.2008 20:15 |
---

Dear friends, we are very happy to announce that we came to agreement with

Dr. Howard S. Friedman

about translation of his book "The Collector's Guide to Gramophone Company Record Labels 1898-1925" on Russian language and publishing it on our website. Since it is a voluminous work (more than 250 pages), the translation may take quite a while, especially if it will be performed solely by the editorial staff. In order to speed up the process we are looking for help from any interested party. Everyone can join the team! Even if your Russian is not quite perfect - we will always be here to help. Besides the satisfaction of participation in interesting and useful international project, you will have an excellent opportunity to perfect your Russian language as well as gain the experience of a translator. In our turn, we promise to provide translator's names for each chapter; however that's all that we can offer in exchange - there is no monetary reward. Yet, if you think that money is not everything in this world, if you have time and keen interest to participate in this task, please let us know. We will be happy to receive any help.

Russian-Records.com
| | |
| --- | --- |
| Georg Moll is passed away | 07.05.2008 01:13 |
---
Georg Ivanovich Moll was born in Russia in 1922. His father was Johann (Ivan) Moll of German nationality – a gifted chemist and inventor graduated from the Moscow University; his mother was Olga Andronova - the Russian teacher from the city of Kazan. At that time it was already clear that everything earned by the years of his family hard work was irretrievably lost. Nationalization of Industry was the major slogan of Soviet regime.

In 1928, six year old Georg moved with his family to Germany, the motherland of his ancestors who in 1880 decided to try their luck in Russia. Moll worked hard on his education: high school, colleges in Darmstadt and Danzig, and a University in Kiel from where he was graduated with a major in physics and mathematics.

During the first years of WWII, the Wehrmacht did not draft persons with these specialties. In pre-war time, the young Georg Moll was enthusiastic in glider sport, so that at the beginning of 1945 during the full mobilization he was dressed in the uniform of petty officer of Luftwaffe and ordered to Eastern Prussia. The squadron in which he served was surrounded by the Red Army before it was made a single flight.

Then there were terrible camps of Daugavpils, Yelgava, Riga, Chelyabinsk and Ufa. He was released in five years though he was originally sentenced for the whole quarter of century by the court.

The native Russian language played an evil role for Moll. He was often called for interrogations where they severely beat him in persistent attempts to find out whether he is a Russian officer-deserter.

After returning back to Germany from the Soviet captivity Georg Moll underwent medical treatments for a long time. After restoring his health he was back again in his university and in 1958 he was awarded a degree of Ph.D in physics. For more than 25 years Georg Moll worked in the medical college in Kiel until his retirement.

Pensioner Georg Moll has devoted all his free time to writing of the history of his wonderful family in which destiny the German and Russian roots, the destinies of simple people and the big politics have intertwined. It repeatedly visited USSR, conducted active correspondence with the state archives and persons, helped with money and parcels to his friends and relatives.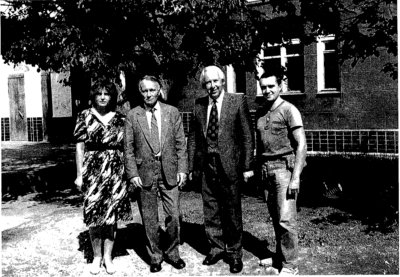 In 1910 the Moll family had built, along with other factories at the Aprelevka Station, the manufacturing plant for phonograph records that received the proud name «Metropol Record». Subsequently, this enterprise expropriated from its German owners was destined to play tremendous role in development and progress of Russian, and later and the Soviet music industry. After the beginning of WWI matrixes of the largest Russian label of that time – «Syrena Record» were broughtfrom Warsaw to Aprelevka. At the same time on the base of «Metropol Record» worked founded in St. Petersburg Russian Stockholders Company of Grammophone (RAOG).

During the first years of the Soviet regime, by a twist of fate, they started to print at the plant that was built by the Moll family, phonograph records with well-known speeches of Lenin, Trotsky, Lunacharsky and other people's commissioners who actually took away everything from the hardworking German family. Over the next years Aprelevka's plant of phonograph records (AZG) became a leader of the industry. It was the largest plant of «Melodia» company in which shops they printed millions of records that enjoyed huge popularity among music lovers in USSR.

During the Privatization period they did not offer to Georg Moll even one symbolical share, though AZG management was well acquainted with him! In 2002 under the decision of arbitration court of Moscow area Aprelevka's plant of phonograph records has been declared bankrupt.

For several years I was in correspondence with Georg Ivanovich. In 1992 he sent me a letter with these words: «I am anxious for Russia by my heart. I love this country as my Motherland».

A wonderful person has passed away. He had a kind and responsive heart. He was the most Russian German, whom I ever knew. They say that history does not like "ifs", but I am absolutely certain that if not for the tragic events of 1917, we would now know Aprelevka as the largest Russian musical label that would contribute a lot to the development of our musical culture.

Please convey our most sincere condolences to all relatives and friends of Georg Moll.

Alexander Tikhonov
and Administration of Russian-Records.com
| | |
| --- | --- |
| Richard Rosing, welcome to the Club! | 05.03.2008 03:03 |
---

Dear friends, we are very pleased to announce that recently our club was joined by Richard Rosing – the son of Vladimir Sergeevich Rosing – the great artist, who conquered the West with the genius of his talent, but as fate willed it he remained almost unknown to his contemporaries in Russia. The greatness of Val Rosing's talent (he was known in America by this name) is proven by the fact, that Bernard Shaw considered him as the best singer of the 20th century together with F. I. Chaliapin. Besides his singing art, V.S. Rosing was known as a talented stage director, producer, and public figure. But it is not all: Richard Rosing has submitted a few articles written by his father to be published on our portal. We are offering for your reading one of them which is called

"Idealism and Art" . By the efforts of Russian-Records.com the article for the first time has been translated from English into Russian. After reading it, one will realize that by losing V.S. Rosing, Russia lost not only a great singer, but also a great philosopher! Fortunately, thanks to generosity of Richard Rosing, who has collected rich materials about his father, we have the opportunity to offer some of them to the visitors of our site. Besides the article mentioned above (more are coming as they get translated), several photos will be posted at the "Portrait Gallery", the concert programs and flyers will become available in the "Printed Matter", and 29 sides of rare records obtained by special request from the British Sound Archives, will be uploaded into the folder of "Vocalion"label.

Vladimir Rosing's last wife Ruth Glean Rosing has published his personal biography, but Richard Rosing is currently working on a new book. He wants it to be much deeper, and much more complete. He has done a great deal of new research since Ruth's book and undertook a few trips to Russia and Ukraine. The report of the first journey is presented in the documentary film "Finding Dzhulynka", that had great success and really pushed him towards doing a full biography.

Let's welcome once again Richard Rosing, thank him for his generosity, and wish him every success in finishing his book about one of the greatest singers of the 20th century, Vladimir Sergeevich Rosing.

Russian-Records.com
| | |
| --- | --- |
| Welcome to the Club! | 04.12.2007 00:53 |
---

Dear friends, we are very pleased to share a good news, that grandson of the founder of «Metropol Record» label (A.K.A «Aprelevskij Zavod» or «Aprelevka Plant») Gottlieb Heinrich Carl Moll (in Russian Bogdan Vasilyevich Moll) John-Peter Moll recently joined our club. Following is what he writers about his grandfather:

"…«Metropol–Record» were only a side activity of my grandfather. His main business was making enamel and enameled bathtubs. He had also farms and on the main one, located in Duminitschi (a village in Kaluga Oblast – R-R) my father was born and grown up. On the Duminitschi farm my grandfather introduced a system, which ensured the delivery of 100% tuberculosis free milk. Furthermore he started to introduce the apple variety «Koriznewje» , which I heard, is still popular in Russia. Due to his social behavior only minimal harm was experienced by the family during the revolution. Some family members were kept for some time at a Volga island but could then travel to Neumuenster, Germany where my grandfather had another enamel and bathtub factory. Like the possessions in Russia, the factory in Neumuenster was nationalized in 1939 to produce airplanes. I believe that the rise and fall of my family is much more interesting than the «Buddenbrooks» written by Thomas Mann…"

Currently, John-Peter lives in Vienna, but after retirement he plans go back to Neumuenster and continue the genealogical work started by his cousin Georg Moll. Georg is in his late 80's now, and unfortunately the age is already taking its toll.

We cordially welcome John-Peter in our club and wish him and his cousin Georg every success in restoring genealogy of their wonderful family.

Please take a look at Alexander Tikhonov article The Jubilee of «Aprelevka», that now available in two languages: English and Russian.

Russian-Records.com
| | |
| --- | --- |
| Moving to the new hosting is completed | 15.08.2007 14:29 |
---
Dear friends, we finished moving to the new hosting. We hope that this procedure did not cause you many inconveniences. The site retained all information including accounts, profiles, mail, uploads, comments, ratings and forum posts. Yet, if something was lost or somehow corrupted please let us know and we will do all possible to recover it. Also, we will be very grateful if you let us know about all anomalies should you notice any in the nearest future. We wish you a pleasant visiting our site!

Administration.