random item
---

Pirozhki (Pies) (bernikov)
Comments: 0
Rating


news
---
80 news on 16 page(s). Displayed: news 41 to 45.
| | |
| --- | --- |
| Digitizing of remaining pre-revolutionary periodicals | 10.01.2014 02:41 |
---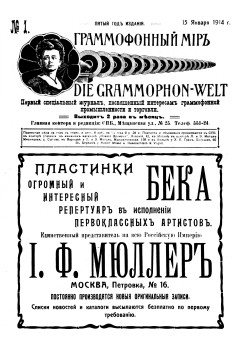 Dear friends, since this year we decided to change the order of digitizing of the only remaining magazine "The Gramophone World" and instead of the previously planned 1912 immediately jump to 1914.

This way all newly published numbers will see the world once again in exactly 100 years after their first publication!

We will continue to follow this approach in the following years until 1917, when the magazine ceased to exist. Since in some years the magazine was issued not in all months, we will fill the gaps by magazines from 1912. The whole process will be completed in 2018 by digitizing all magazines for 1913.
| | |
| --- | --- |
| Happy New 2014 Year | 29.12.2013 21:16 |
---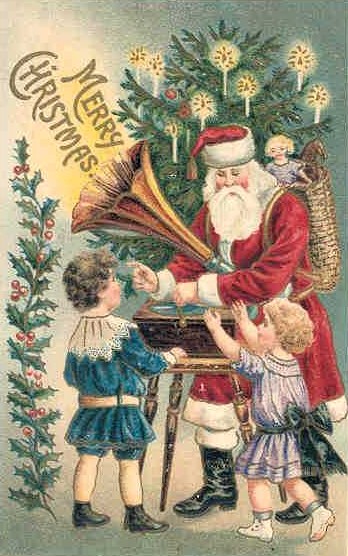 Merry Christmas and Happy New Year 2014! We wish in New Year many new exciting discoveries, new joy of communicating with fellow "shellacers", new enjoyment from the sounds of the old forgotten tunes!
| | |
| --- | --- |
| God Save the Tsar CD | 06.10.2013 03:30 |
---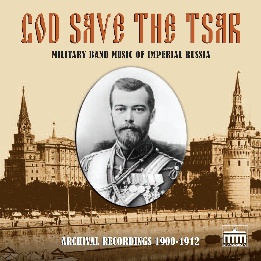 Dear Friends, we are pleased to announce that US company Brandenburg Historica LLC recently released CD "God Save the Tsar" with Russian pre-revolutionary military marches.

Of total 25 disc's tracks, 10 have been provided by the Participants of Russian-Records.com, so the CD can be considered as our joint project.

From all Participants we have obtained consents for use of their materials in this project. We also offered appropriate compensations, but without exception, all Participants have donated their shares in the fund of website development, for what we thank them a lot!

Following are the names of the participants, whose materials were used (in alphabetical order):

Yuri Bernikov (bernikov)
Andrei Minkin (Andrei) (unfortunately, his materials were not included in the final version)
Alexey Petukhov (conservateur)
Vladimir Timokhov (Voot)
Dmitry Fokin (dima)
Alexander Scheglakov (alscheg)

The CD can be bought on eBay at this link and on Molotok at this link. The money from the sale of the CD will be used to pay for hosting.
| | |
| --- | --- |
| Cooperation with Saxon State and University Library Dresden (SLUB) | 21.04.2013 14:16 |
---

Dear friends, we are very pleased to announce the agreement with Saxon State and University Library Dresden (SLUB). Currently, there are about 140 Russian recordings on the library website http://mediathek.slub-dresden.de; many of them are rare present huge interest. We got permission to make them available from our website too that we are going to do in the nearest future.
| | |
| --- | --- |
| Grammofonaja Zyzn No.3 1912 | 30.03.2013 21:34 |
---
В номере:
Торговый Дом А. Бурхард, 1-я стр. обложки
Нотное издание "Ямбор", 2-я стр. обложки, стр. 24
15 лет фирмы Граммофон в России, стр. 1
Список новых пластинок Зонофон за февраль 1912, стр. 2-3
Торговый дом М.В.Кукуева и С-вья, стр. 4
Письмо Я.А. Бермана и ответ редакции, стр. 6
Еврейские песни, стр 7. 10
Дополнительные список пластинок т-ва Сирена, стр 8-9
Общество Лирофонверке, стр 10
На реках Вавилонских, стр 11
Список новых специальных пластинок Пишущий Амур за февраль 1912, стр 13 и 4-я стр. обложки
Хроника, стр 14, 16
Фонокритика, стр 16
Граммофонные пластинки Звукопись, стр 18, 19
Норберт Родкинсон, стр 20
Второй добавочный список Янус-Рекорд, стр 21
Мария Александровка Эмская, стр 22
Торговый дом Полякин и сыновья, стр 23
Оптовый склад и производство Рихард Якоб, 3-я стр. обложки